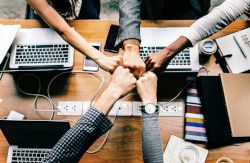 Professional printing is a multi-step process with each part playing an important role to ensure the final product is of the highest quality. While each department is focused on its part of the process, our company-wide focus on customer service ensures unparalleled results.
Sales
The first step in the printing process is to make sure we understand your needs and goals. Our sales team will take the time to listen to you, ask you the right questions and offer expert advice, all to make sure we deliver exactly what you want.
Customer Service
Customer service is the backbone of our team. Our highly trained customer service staff is there to make sure you enjoy a smooth and hassle-free experience. They are there when you need them, ready to answer your questions and help you at every step along the way.
Prepress
Our prepress department is the bridge between the digital world and the printed world. It's their job to take your creation and make sure it is ready to go to press. Using cutting-edge technology and precision process controls, they ensure that what you've seen on screen is what you'll see on paper.
Printing
The printing department is where "the rubber meets the road," or in this case, where the paper meets the plate. Part craftsman, part technician, part magician, our press operators orchestrate sophisticated machinery to make sure that your last impression looks as good as the first.
Finishing
The finishing services department takes your documents from the press and carries them to their final form. Whether cutting, folding or binding, it's a job with no margin for error--if it's done wrong, everyone notices. But our skilled staff makes it look easy while doing it quickly.